China's Online Shopping Fiesta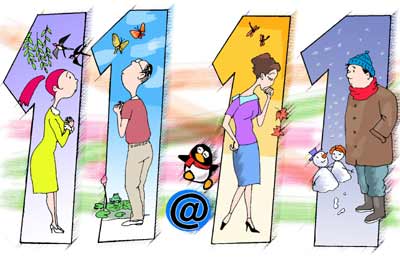 By Jason Wang
The Hoffman Agency, Shanghai
For people interested in China's online shopping industry, "Singles Day" (or Guanggun Jie, literally: "bare sticks holiday") is a must-know.
Conceived by Chinese college students as a version of Valentine's Day for people without romantic partners, "Singles Day" is similar to Cyber Monday in the United States in that it is China's – and possibly the world's – busiest online shopping day.
Here's the concept:
Unattached young people treat each other to dinner or give gifts to woo that special someone in their life. They thereby end their single status on the date of the event: Nov. 11, or "11.11" – four "singles."
Though started in the 1990s, "Singles Day" only became an online shopping extravaganza in 2009.
That year, Taobao, owned by Alibaba, launched the first "Singles Day" holiday promotion, which proved to be a very successful marketing strategy, attracting much attention from media and consumers.
The momentum magnified over the next few years, causing the most sensation in 2011. Since November 11, 2011 had six "singles" rather than four, 2011 marked the "Singles Day of the Century." This gave e-commerce sites an excuse to crank celebrations up a notch.
Shopping promotions were highlighted throughout China, and activities were widespread. All major e-commerce players, such as 360buy, Dangdang and Vancl, launched their own promotion campaigns on the day.
On this past "Singles Day" – with much hype and euphoria – local Chinese e-commerce players shocked the Web with record-breaking sales figures. The official announcement was made by Alibaba Group, the company that owns Taobao and TMall; it stated that on November 11, 2012, 213 million netizens in China spent a staggering 19 billion yuan ($3.1 billion USD) on its online platforms within 24 hours!
It's no doubt that "Singles Day" has become a carnival in China. And in the heat of this boom, media, especially the emerging social media, plays a very important role.
For example, TMall's official Weibo (China's Twitter), followed by more than 2 million netizens, started promoting its "Singles Day"-related information one month prior to the date. Almost every brand owner and online store owner posted tweets on their Weibo and encouraged followers to retweet it. Some of them even invested money to run advertising campaigns on social media. In addition, many media and KOLs (key opinion leaders) joined the discussion about this marketing campaign. All this hype increased everyone's expectation for the event.
Considering the big user base for social media in China (more than 415 million), the result was overwhelmingly positive – there are a more than 40 million tweets in Sina and QQ Weibo about the online shopping on "Singles Day."
Oh yes, by now you must be very curious about what I bought this past "Singles Day." Well, I was planning to buy two pairs of shoes, but the slow Internet connection let me down. Although I opened the page in advance (and although there were several hundreds of shoes available) they were all gone before I clicked to buy. What a pity!